Porcelain Wash Basin
You discovered that this basin has an outer rim to keep water from spilling!
This is a ceramic wash basin and it is very large, almost 20 inches across. The blue on white colors are typical of colonial Mexican ceramics and were inspired by porcelain from China. This kind of
Mexican pottery covered with a shiny glaze is called talavera.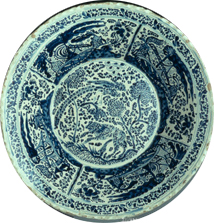 How was it used?
If you had lived in the 1800s in Mexico, you might have found this basin sitting on a wash table in your bedroom.
When you awoke in the morning, you would pour water from a pitcher into this basin to wash yourself as you do in the sink in your bathroom now. There was no running water at that time so the water for washing was carried to the rooms and stored in pitchers.