Monk's Chair
Excellent, you observed that one picture of the Monk's chair did not have the gold trim around the backrest.
The chair is made of walnut and is heavily carved with ornate feet and arms. To make it more comfortable red velvet padding has been placed in the seat and on the back of the chair.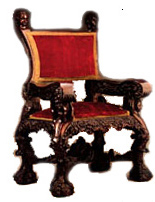 How was it used?
In the early Colonial times in Mexico only important people would have been able to sit in chairs. This chair would have been used by a dignitary, a priest, a bishop or another important leader of in the Church.
It is difficult to imagine our own homes without comfortable chairs but in the 1700's in Mexico, many homes were furnished with only cushions and rude simple wooden benches.