Silver Frame
As you observed, the leg of the frame is missing.
This is a silver frame around an oval mirror with ornate decorations in the frame. Garlands of flowers drape down the sides of the frame and at the bottom to form the legs. At the top are two small silver angels that look out at the viewer.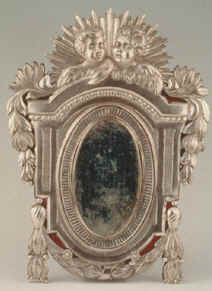 How was it used?
This frame would have been a costly item and only important people in the Church or someone in the ruling class would have had such a valuable item in their home or collection in Mexico in 1830.
There was a great deal of silver found in the mines of Mexico. Many of the native Mexicans were sent deep into the earth to mine this silver for the conquering Spanish.