Inlaid Cabinet
You saw that the real wardrobe is wider than the cabinet in the other three pictures.
This is wardrobe has carved oak doors and legs made of polished walnut. The shapes and designs on the doors of this wardrobe were made by putting together small pieces of wood with different colors. It is like making a very hard puzzle.
The cabinet is about 5 feet tall.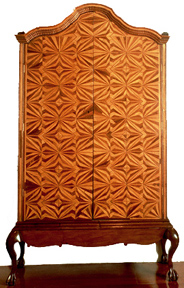 How was it used?
You might have had this wardrobe in your bedroom if you had lived in Mexico in the 1850s. It was designed to be tall enough and deep enough to hold clothing and shoes.
In modern times, you probably store these items in your closet but closets were not built into the bedrooms in earlier periods so wardrobes were necessary pieces of furniture in the bedrooms.