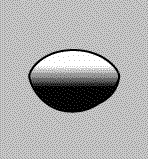 Use the"reload" or "refresh" button on your browser to restart the animation
Ceramics represent some of the oldest and most useful art objects in the world. Even in very early societies, as soon as man stopped roaming and stayed in one place to farm, new necessities would arise. Every culture has needs for vessels and containers. Many have been used simply, to store food or carry water. Others have been embellished and decorated, with changes to their surface or their shape.
The animation to the left symbolizes progressive change in the use of clay.