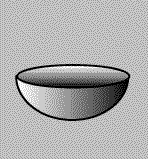 Use the"reload" or "refresh" button on your browser to restart the animation.
This means that they must be covered with a waterproof glaze before they can be used to hold liquids. In colonial America, this caused additional problems, because the most common and accessible glazes contained lead. Lead is toxic to humans, and can accumulate in the body even though only small amounts are ingested each time a lead-glazed container is used. Other potters glazed their ceramics with tin instead of lead.
The animation to the left symbolizes the way water seeps through unglazed earthenware.