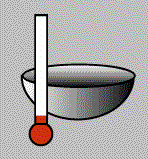 Use the"reload" or "refresh" button on your browser to restart the animation.
Porcelain is not nearly so easy to produce as is earthenware and stoneware. It requires a special white clay called kaolin, which comes from decomposed granite. Porcelain also must have special kilns, and even higher firing temperatures than other clays. After firing, it is white, and sometimes translucent. Because porcelain originated in China, pieces made with this clay and process are known by that name, even today.
The animation to the left symbolizes the highest firing temperature, which is used with porcelain.